MTB Shareholder Update
Dear Valued Stakeholders,
We are currently immersed in a critical phase of exploration and strategic planning and would like to take the opportunity to inform you of our advancements, as your trust fuels our momentum.
Our diligent geological team are now on site at Telegraph. They have constructed a new camp which is road-accessible and is just a short hop by helicopter to the project.
Our immediate focus is to refine the drill plan, with drilling operations set to kick off next month. A meticulous assessment of results from MTB's last two field seasons, coupled with data from previous operators, has laid the foundation for this initiative. The endeavor aims to strengthen the veracity of our findings and plug any informational gaps, thus optimizing the location and orientation of the drill holes.
Unearthing the heart of the copper-gold porphyry system that was hinted at by the 2014 drillings has been our prime directive. After two explorative seasons, we've uncovered compelling evidence signposting the heart of this system. High grade copper values at surface, a strong geophysical signature and multiple other geoscience indicators outline what appears to be the core of a porphyry. Such a strong alignment of indictors would make this a compelling drill target in any setting. To have this alignment in the midst of four world-class deposits, all with similar geology to Telegraph, makes this one of the most exciting exploration targets that I have ever seen.
The team has also outlined two other highly prospective targets, with a large area yet to be explored. Clusters of porphyrys are common. One need look no further than just to the south in the Golden Triangle, at Seabridge's KSM cluster of deposits: Kerr, Sulphurets, Mitchell and Iron Cap. Telegraph has a similar footprint to the KSM cluster, which collectively host 154 million ounces of gold, 819 million ounces of silver and 54 billion pounds of copper. https://www.seabridgegold.com/investors/overview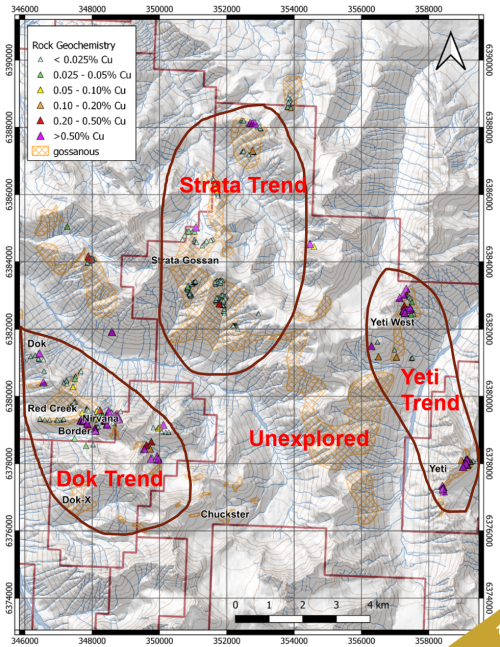 MTB's geological team has an XRF device on site, which provides an immediate approximation of copper content. They also have a SWIR (shortwave infrared) spectroscopy device which provides guidance in alteration geochemistry which helps vector within a porphyry system.
Beyond Telegraph, one of our secondary projects has also seen some recent activity. Joint venture partner Decade Resources (DEC-tsxv) has drilled 18 holes on the Red Cliff project. We expect to see assays in the coming weeks. Red Cliff is located 20 kms north of Stewart, just off Highway 37A. It was historically mined for copper and recently has generated some high-grade gold hits.
Discussions are underway with potential joint venture partners for other projects.
Our mission at MTB is crystal clear: Identify 1-2 substantial metal deposits, priming us for a potential takeover by a larger entity. Our blueprint for success echoes that of GT Gold's game-changing Saddle North deposit discovery, which led to a lucrative acquisition by Newmont, valued at a staggering $420 million - an enviable 40 times the current value of MTB.
The exceptional merits of the Telegraph project are being overlooked with the current dismal market conditions, compounded by the summer doldrums. Savy investors are well versed in the cyclic nature of the mining industry — and the way to make money is to work with the cycles: Buy low — at the bottom of cycles when no one else is paying attention, and sell high, when other investors are the most enthusiastic buyers. We are steadfast in our quest to attract investors who discern the monumental potential the Telegraph drilling program holds. We are certain that this venture will propel MTB into the limelight in the coming weeks.
Lawrence Roulston, CEO
July 7, 2023